12 Delta Pet Policy You need to know before traveling in cabin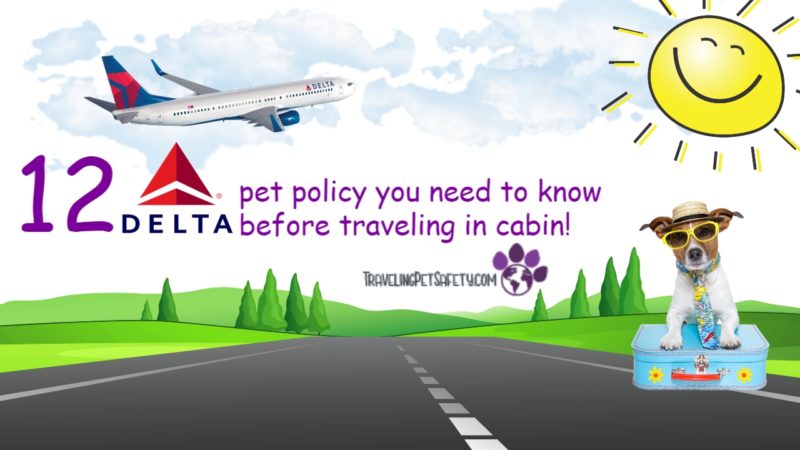 We all know that Delta pet Policy exists, but what do these rules mean for people who are traveling with pets or with emotional support animals? These questions are just a couple out of many for millions of Delta travelers.
How would you handle some of these scenarios?
Imagine that you've been planning a trip to Honolulu Hawaii but then find out you may not be able to take my pet along with you to your dream vacation? 
Or…
What if you have a sudden emergency and need to take an airplane but you are unsure if you can bring your emotional support animal onboard?
Maybe…
You live in Saint Louis, MO and decided to fly 1,800 miles to pick up that beautiful pure breed Persians flat face cat you've always wanted. Will you be board Delta cabin with the policies they have?
These are all questions you should ask yourself before traveling with animals.
---
This article contains a link that leads to Amazon.com. All products have 2-day delivery with Amazon Prime.
If you do not already have a Prime membership, click the link and try Amazon Prime for a 30-day trial absolutely free! The program offers special benefits including:
Access to Prime Wardrobe
Instantly watch thousands of movies and TV episodes
Stream thousands of music
Borrow Kindle books
Get unlimited FREE two-day shipping (no minimum order size)
12 Delta pet policy kit
Snoozer Wheel
Around 4-In-1 Pet
Travel Carrier
Calming Treats
For Dogs
Anxiety Composure
Relief
TreatPod Treat
Container
Tag for Hope
Pet Passports
4.4 Stars on Amazon
3.8 Stars on Amazon
4.8 Star on Amazon
---
Well, guess what?! Traveling with pets isn't a strange phenomenon anymore. In fact, pet travel is on the rise.  On average Delta airlines alone transports 700 animals in a day, and about 250,000 pets annually.
With such a high volume in pet transportation, it makes sense there's a pet policy for Delta airlines. Not only do they have a pet policy in place to keep you and your pet safe, they constantly revisit and revise them whenever a need arises.
There are two-ways Delta Airlines transport pets.
Delta allows pet travel either as a special shipment or as a cabin carry on depending on their size, weight, and other requirements.
Continue reading on to find out everything you need to know about Delta pet policy in the cabin. What you need to do before and during your trip with your pet. What travel documents are needed and the restrictions you need to know before buying a plane ticket for you and your pet.
Let's get to it, shall we?
Carry-on pet requirements
Just like when traveling with toddlers, you need to plan and prepare yourself along with your pet for a flight.
You must ensure that your pet is small enough to comfortably fit in a pet carrier. Your pet should be able to sit and stand without its head touching the roof of the kennel. It should also be able to turn around and lie down naturally.
The carrier should be of the right size and need to be approved by Delta prior to boarding Delta cabin. The last thing you want is to have the wrong size and your pet protruding from the sides or being uncomfortable. This will make your pet very restless and horrible flight experience for both of you. A long flight with dog whining will have everyone on board ready to wring your neck!  Trust me, you don't want that.
Pet as carry-on
According to the delta pet policy carry on each traveler on board are allowed 2 items. Pet carriers are considered a carry-on item. Delta Airlines allows 1 carry-on bag or pet carrier and 1 personal item (laptop bag, briefcase, purse) per passenger free of charge.
Carry-on must not exceed the following size and weight restrictions:
115 centimeters (56 x 36 x 23 cm) or 45 linear inches (22 x 14 x 9 in) this is including handles and wheels.
CARRY-ON WEIGHT RESTRICTIONS
No maximum weight applies to carry-on baggage except in the below stations:
Singapore, Singapore – Changi International Airport (SIN) carry on should not exceed 15 lbs. (7kgs)
Beijing – Beijing Capital International Airport (PEK) Civil Aviation Administration of China (CAAC) requires that domestic hand carry bags should not exceed 10kgs. Individual carrier rules apply for international flights.
Shanghai – Pudong International Airport (PVG) carry on should not exceed 22lbs. (10kgs)
Keep these restrictions in mind if traveling to any of these countries.
In addition, the Kennel must be in very good condition- no leaks, should be well ventilated and should be able to securely lock.
Does delta air line offer pet kennel rentals?
Delta does not offer rental pet carrier for their cabin for your pets, you are required to have one of your own. If you do not already have a Delta approved pet carrier or worried your current carrier doesn't meet Delta standards try the Snoozer Wheel Around 4-In-1 delta approved soft side carrier from Amazon. Be sure to read the reviews then decide whether this product adequate for your pet.
Your pet will love that it's comfortably spacious and you'll be amazed at how freely the carry maneuver through the cabin.
Other amazing features that you will love include the fact that:
It doubles up as a pet bed
You can carry it as a backpack, or you can wheel it. The handle is very stable and the carrier itself is sturdy
It has a mesh on three sides, so you don't have to worry about your pet suffocating.
Most of all it ___ with delta pet policy carry on.
The carrier boasts a rating of 4.4 stars, 1,031 reviews, and 419 questions answered… Pretty good stats, right? See what other users have to say about it as well.
Check the dimensions of the under-seat here otherwise, contact Delta Reservations to know the required kennel size.
You should know that pets are not allowed in the following areas:
Bulkhead emergency exit rows
Flat-bed seats
Seats marked as "No stowage"
Center seats in 757-200 aircrafts
Rows 30-35 in A330-200 aircrafts
Rows 30-43 in A330 -300 aircrafts
In other words, these restricted areas are reserved either for emergency exit, disabled travelers are just aren't suitable for your pet. Delta set these restrictions as a way to keep everyone on board safe including your pet.
Delta pet travel policy while on board cabin
You should know, delta pet travel policy while onboard state your pet should remain inside the carrier until you arrive at your destination. Pet policy Delta prohibit pets from roaming the airplane cabin. This rule is in place because Delta doesn't want your pet bothering others or using the bathroom in the cabin. As a side note your pet isn't allowed to roam freely in the airport lounge either. Total bonus tip for your trip!
Pet's traveling with a liter
Delta only permits one pet per traveler as delta airlines pet policy state. However, like everything else, there are exceptions to this rule. Female pet's that are nursing with un-weaned liter are excluded.
The liter should be between 10 weeks and 6 months. A liter that is younger than 10 weeks will not be permitted on board. Here's the liter breakdown, 10 weeks for domestic travel and 16 weeks for international travel. For some destinations like the European Union, it is 15 weeks.
There are no limits as to how many animals per litter, they're all able to if requirements are met.
Another exception for two pets in one kennel is they must be of the same breed And they must be able to fit comfortably in the pet carrier. No worries, you will be a single charged for one pet. Everyone loves a two for one deal!
Delta in cabin fees
 There is a fee for Pets that are traveling in the cabin. Delta fees are the same whether you're accompanied by a dog, cats, birds (household) or other small pets. The list below shows the breakdown fee for one-way when traveling with a pet. You will be charged as follows:
Within the U.S., Puerto Rico and Canada: $125 USD/CAD
International travel and the Virgin Islands: $200 USD/CAD/EUR
Brazil: $75 USD
The fee is per pet carrier and this will be paid at the time of check-in, not during the reservation period.
I should note, although pets are accepted on almost every flight within the United States, Canada, the U.S. Virgin Islands, and Puerto Rico, they are not allowed on flights to Hawaii. Sorry Fido, no walks at Pearl Harbor in Honolulu, Hawaii.
Shipping your pet with Delta Cargo
 Delta cargo pride themselves as reliable and safe when shipping your pet to expected destinations. They have specially trained pet handlers who track your pets. Delta handlers make sure your pet is taken care of during the flight and end where they are supposed to end up.
However, before booking your pet on Delta cargo, it is important that you keep in mind the following factors:
Additional charges may apply depending on your destination.
Aside from your flight itinerary, you will need a separate plane ticket for your pet.
You will have to drop your pet off for shipment at Delta cargo location at least three hours before departure for domestic flights and five hours before departure for international flights.
There isn't a guarantee that your pet and you share the same flight.
Pet cargo shipping should be 14 days prior to the travel date
You will be required to pick up your pet from the Delta cargo area at arrival destinations.
If the forecasted temperatures are either lower than 20°F or higher than 80°F at either the destination, origin or transfer point, shipment may not be accepted.
You should note that Delta cargo will only accept international pet shipment from known shipping companies. Delta encourages international customers to use a pet shipper. Here is the link to I.P.A.TA (International Pet and Animal Transportation Association). From there you would then need to follow acceptance actions set by the shipper.
Breeds that are banned by delta
There are many animals Delta banned in their cabin. I mean how would you like it if you had to sit next to Bob and his pet goat. Crazy right! For this article, I'll focus on cat and dog breeds that are banned.
Delta Airlines banned the transportation of pug-nosed breeds Snub-nosed cats and dogs. This move was unpopular by most travelers. Delta took a beating on Twitter and other social media platforms.
Brachycephalic breeds have smushed facial features (short nose) which makes it difficult for them to breathe. Their respiratory conditions fluctuate when they fly at high altitudes. You can read more about short snout breeds in articles flying short nosed dog breeds and dog breathing problems brachycephalic airway syndrome.
| BREEDS OF DOGS | BREEDS OF DOGS | BREEDS OF CATS |
| --- | --- | --- |
| Affenpinscher | English Toy Spaniel | British Shorthair |
| American Bully | Japanese Chin (Japanese Spaniel) | Burmese |
| American Pit Bull Terrier | King Charles Spaniel (Cavalier King) | Exotic Shorthair |
| American Staffordshire Terrier | Lhasa Apso | Himalayan |
| Boerboel | Mastiff | Persian |
| Boston Terrier & Bull Terrier | Pekingese | Scottish Fold |
| Brussels Griffin (Petite Brabancon) | Presa Canario | |
| Bulldog (all breeds) | Pug | |
| Cane Corso | Shar Pei | |
| Chow Chow | Shih Tzu | |
| Dogo Argentino | Staffordshire Bull Terrier | |
| Douge de Bordeaux | Tibetan Spaniel | |
| Boxer | Pit Buls | |
I am not in the group that is upset with the ban, I don't feel the ban was decided in bad faith but in the best interest of the snort nosed dog's safety.
Are pet passport required for dog to travel delta in cabin?
You do not need a pet passport if you're traveling domestically to fly in Delta cabin. However, if you are traveling overseas you will need to get a few documents. A pet passport makes things easier especially in the case of an emergency.
Pet Travel Schemes (PETS)
Initially established in the United Kingdom, the pet passport program knowns as Pet Travel Schemes (PETS) is used by the following participating countries. The including countries are the United States and nations in the European Union.
Dog's from the United States that are traveling abroad must first take the dog to a veterinarian certified by the U.S. Department of Agriculture. The vet will provide the owner with all the necessary forms and devices needed for travel.
Vaccinations
Your dog must have a rabies shot and/or a certificate stating they are up-to-date rabies vaccination. The vet will also update the animal identifier with either an electronic microchip or tattoo.
delta pet policy international flights
When you are traveling overseas you must understand that Delta pet policy international flights are procedures placed to help flying from one country to another.
Some countries require proof of treatment for ticks and tapeworm as well. If owners have all of the requirements of PETS, dogs will not need to go through the quarantine period. This is implemented at the airport during entry to a country. The requirements of PETS policy apply to cats as well.
The benefit of having a pet passport is all these documents are all in one place and looked upon favorably by other countries. If your looking for a pet passport at a reasonable price check out Tag for hope. Use my coupon code "PETSAFETY15" for 15% off any purchase.
Traveling abroad with your pet
 If you are planning an international trip with your dog, then there are a few arrangements that you need to make well in advance.
You will need to contact the embassy or consulate to find out what pet travel regulations they have
Get all the required paperwork in order- health certificates, acclimation certificate, pet passport, and other documentation.
Take your pet to the veterinarian to ascertain your pet compliance in foreign travel.
Also, contact Delta to find out if there are any additional fees such as terminal handling charges, customs clearance, kennel storage and so forth. Remember all charges must be paid in full for your pet to be released.
flying dogs on delta
If taking a flight longer than 8 hours, you will have to choose a connecting flight. Delta does not allow dogs on flights longer than 8 hours.
Also, find out if your pet will be allowed in the cabin otherwise Fido will have to travel in Delta Cargo.
Even when flying dogs on Delta those same rules apply to all animals traveling whether it's in within the cabin or Delta air line cargo area.
Pet health documents required
 Just like human passengers, pets require specific travel documents for both domestic and international travel.
Delta airlines dog policy when shipping your pet
Delta dog policy requires that you get a health certificate when shipping your pet. The health certificate must be issued 10 days before the scheduled travel date by a licensed veterinarian. The health certificate must be valid for the travel to and from the destination. Make sure your pet certificate is within those 10 days, otherwise a new pet health certificate will need to be issued in order to travel with your furry friend.
You will not be required to get one if your pet is traveling in the cabin however, your destination state may need to see health certificate. To be on the safe side, check with the state consulate or confirm from Delta Airlines.
You will also be required to provide the following:
The weight of your pet
The Breed
And the kennel dimensions
All these requirements are applicable for both pets traveling in cargo and in the cabin.
The health certificates must be original; dated, signed and stamped and if they are digital certificates they must be digitally signed.
All the documents must be in English or translated to English.
If you are traveling when the temperatures are between 20°F (-6°C) and 45°F (7°C) then you will need an acclimation certificate.
Again, if you have a pet passport your vet will put all health information in your passport booklet.
Does delta limit the number of pets allowed in the cabin per flight?
There are obviously limits to the number of pets allowed on each Delta flight. You are allowed only 2 pets in domestic first class, two in the business Elite class and only 4 in the main cabin. However, further restrictions may apply, and acceptance is on a first come first served basis.
Delta Airlines Emotional Support Animal in the cabin
Delta acknowledges that there are passengers who rely on their pets for emotional needs, stability and therefore have a policy in place for such cases.
They do not charge any additional service fees for emotional support or service animals.
delta pet policy emotional support
The Delta pet policy emotional support does come with guidelines. The expectation comes as following:
If traveling with your ESA- Emotional Support Animal, it will have to be small enough to fit it on the floor right in front of your feet. You can also carry ESA in a pet carrier that fits under the seat in front of you or on your lap if it is a small animal (lap sized- in comparison to a full grown Golden Retriever). Big Emotion Support Animals are not permitted to sit on the passenger's seat.
Requirements to board Delta cabin with Emotional Support Dog
The service animals must be fully trained- they should not be a nuisance, distraction or disturbance to the other passengers on the flight. They should also pose no danger to humans or themselves.
The size of your pet must not exceed the size of the passenger's seat. And when placed on the floor, it should equally not extend to the next passenger's foot space or to the aisle.
Your ESA must be with you at all times while on board and within the airport's premises.
Luckily, you are also allowed to carry your pet's food, toys, blankets, and other similar items provided they are not bulky.
You will be required to provide proof as to why you need the animal for emotional support. This document can be obtained from your doctor or your psychiatrist.
Your doctor should draft a form explaining that you need the pet for emotional support. The document should be signed by your doctor and have their contact information as well.
However, the letter should not be more than a year old and should have a professional stamp and letterhead. If it is a digital document, it should be signed and/or stamped as well.
Note that Delta has a right to accept or reject any letter if they find it to be questionable.
Delta may call you or email you to verify the information you provided. They might also inquire about the license details of your doctor or psychiatrist to find out this info beforehand.
All ESAs must have a signed document to confirm that they are trained and can behave accordingly when on-board.
All ESAs must also have a signed document showing that the animal is vaccinated, and vaccinations are up to date.
The passenger must obtain an official letter from a mental health professional 48 hours prior to the flight to show the need for the emotional support animal.
However, emotional support animals under the age of 4 months will not be allowed to fly. This is because they have no vaccinations. Also, Delta does not allow ESAs to fly longer than 8 hours unless you book them on connections.
Additionally, they no longer accept pit bull dogs as ESAs.
Any restrictions on Emotional Support Animals?
Yes, there are restrictions when flying with an emotional support animal.
Disruptive behaviors such as jumping on passengers, growling, biting, peeing or pooping in the cabin area and excessive barking is not allowed. As much as people are understanding and sensitive toward others with emotional anxiety, most people are unwilling to deal with a disruptive animal for a whole flight.
Here are some emotional support animal delta no longer accept
The following ESAs are not allowed as they pose a danger to the public:
Hedgehogs
Animals improperly cleaned and/or with a foul odor
Ferrets
Insects
Sugar gliders
Reptiles
Amphibians
Goats
Rodents
Snakes
Spiders
Non-household birds (farm poultry, waterfowl, game bird, & birds of prey)
Animals with tusks, horns or hooves
Unfortunately, your Emotional Support goat Igor will no longer be permitted to travel onboard delta cabin with you.
You don't believe me? Then watch the video below!
As you can see from the video above Delta will no longer accept animals they deem as dangerous or animals without proper documentation from a licensed doctor. Some states have penalties, for people caught trying to pass their pet's as an Emotional support animal Delta will report them to the authorities. Depending on the state, that person can spend time in jail and or have to pay a hefty fine.
Other restriction that will keep your pet out of Delta cabin
Other reasons why your pet may not be allowed to fly in the Delta cabin are if:
Your pet is sick
an animal is showing aggressive behaviors on board
The kennel does not meet the required conditions
Temperatures are extreme at the point of origin, in transit or at the destination. Check the Delta's temperature guide to see the recommended temperatures. Some dog and cat breeds (pugs or snub-nosed) become hostile, restless and can even get heat stroke in temperatures that are over 70 degrees.
Your pet is a snub-nosed breed
Pet is traveling on itineraries that have two or more connections.
The Destination airport does not allow pets such as:
Although no country in the world has officially banned dogs, many Islamic countries make it near impossible to have pets, let alone dogs. Iran is one such example. Many of the other countries that have restrictions have their own reasons for "banning pet's".
It is ironic considering these same countries will use sniffer dogs at airports and have a canine squad in their armies but having a pet dog is considered 'western' concept and is frowned upon.
Can Emotional Support Dog's Still travel to countries that they are banned in?
If you have an Emotional Support dog that is on a banned list by a country they are not allowed to travel to that territory.
There are some dog breeds that are not allowed in certain countries because of the belief these breeds are "violent". It doesn't matter whether you have a well-trained, harmless service dog they will not be allowed into that country. It is your responsibility as Support animal owner to make sure your pet is allowed in those territories. Most countries that have pet bans will send your pet back at your expense or, in some cases your pet will be euthanized if unable or unwilling to send your pet back.
Emotional Support dog breeds on the ban list
Although each country has different breeds they deem as dangerous. These dogs are the most likely to be banned, Pit Bulls, Neapolitan Mastiffs, Rottweilers, Dogo Argentinos, Japanese Tosa Inus, Fila Brasilieros, and Staffordshire Bull Terriers.
To Wrap Up
Yes, Delta pet policy is in place to assure the safety and comfort of all Delta travelers in the cabin. It's tough to swallow if you're traveling with an animal on the banned list. These policies allow Delta passengers to travel with their pets but with limits.
It is best to check with Delta Airlines prior to traveling to reduce any chance of rejection. It's better to be safe than sorry! The last thing you want is to be stranded in an unfamiliar county with an animal, follow their policies and should be fine to travel in Delta cabin.
Otherwise, let your pet travel and see the world with you!
If you found this article helpful, give us a thumbs up. Also, subscribe and don't forget to share our "Paw-some" articles with your fellow pet-lovers. Don't forget to check out our articles about:
---
This article contains a link that leads to Amazon.com. All products have 2-day delivery with Amazon Prime.
If you do not already have a Prime membership, click the link and try Amazon Prime for a 30-day trial absolutely free! The program offers special benefits including:
Access to Prime Wardrobe
Instantly watch thousands of movies and TV episodes
Stream thousands of music
Borrow Kindle books
Get unlimited FREE two-day shipping (no minimum order size)