7 Fun Weekend Activities for you and your Dog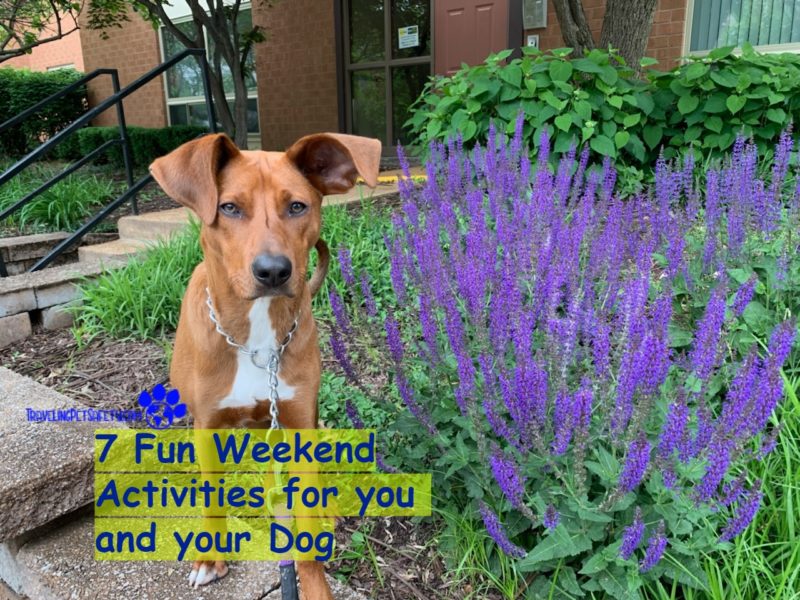 Who says weekend activities aren't a good time to spend with your dog? In this article, I will be sharing with you 7 fun weekend activities for you and your dog to engage in.
As a dog owner, I know how difficult it can be to make out time for your pet. Especially if you are like me who have a busy schedule during the week, and barely can find time to spend with Sage my Rhodesian ridgeback.
During the week, I have to hurry to get out of the house to go earn a living, and most times leave Sage alone at home. But I make sure I leave her a healthy breakfast in her bowl to keep her fed before I get back home.
I know she gets lonely whenever I am out, but I ensure I make up for lost times during the evenings and most of all on the weekends.
---
Products featured in this article
This contains links that lead to Amazon.com. All products have 2-day delivery with Amazon Prime.
If you do not already have a Prime membership, click the link and try Amazon Prime for a 30-day trial absolutely free! The program offers special benefits including:
Access to Prime Wardrobe
Instantly watch thousands of movies and TV episodes
Stream thousands of music
Borrow Kindle books
Get unlimited FREE two-day shipping (no minimum order size)
Product Name
Product Image
Product Rating on
Amazon
Read the Reviews on
Amazon
RUFFWEAR -
Float Coat Dog
Life Jacket for
Swimming
4.8 Star Rating
on Amazon
RUFFWEAR -
Approach Pack
4.7 Star Rating
on Amazon
Walky Dog Plus
Hands Free Dog
Bicycle Exerciser
Leash
4.5 Star Rating
on Amazon
OneTrail Hands
Free Dog Leash
4.4 Star Rating
on Amazon
Worlds Toughest
dog disc
Best Flying
Dog Frisbee
4.2 Star Rating
on Amazon
Zesty Paws Omega
Treats for Dogs
4.6 Star Rating
on Amazon
---
The start of our weekend
For Sage and I, it starts with me waking up early in the morning and giving her a good rub down her belly while she is still asleep.
During the weekdays, I let her sleep until she is ready to wake up on her own. On Saturdays and Sundays, I get up as early as 5 am or thereabout and wake Sage up. Not because I don't like to sleep, but because it's the days of the week I get to do my laundry, prepare meals and run errands before the next week.
We spend time together to do the cleaning, take out the trash, clear out the backyard and attend to any other activity that needs attending to.
Before you can make a list of the dog friendly activities you and your pooch can engage in, you need to first make out time for you both to spend together. And I find weekends to be just the right time for me.
Dogs and pets in general love attention; and it is your duty as a responsible pet owner to shower your dog with all the attention he/she deserves.
Spending Time with your Dog
If you want your pet to be warm and loving towards you, you will definitely need to bond with him/her. The best way to bond with your pet is to spend time with them, and you have to enjoy doing it. Your dog can tell when you're faking the funk… Speaking of "faking the funk" I have a neighbor who spends about 8 minutes a day throwing a dog frisbee in their backyard. It's so depressing to watch.
Dogs are smart beings and can tell when you are not overly drawn towards them. Reward them when they perform excellently, and don't miss any opportunity to let them know when you are happy with them.
There are a lot of things you can do to bond with your dog. Bathe them, brush their coat, play indoors and go out or take a nap together; anything to make them take a likeness towards you, and reassure them that there are still right there in your heart.
Whenever it rains at night, Sage loves to cuddle up next to me. She gets up from her sleeping bed on the floor and jumps into my bed. I discovered that she likes contact a lot, and I don't hesitate to pet her every day, in return sage reward me with plenty of licks! We can sit on the couch and watch TV or roam about the house together.
Sage can be very energetic (almost all the time) and always seize the opportunity to play. This is why I set aside my weekends to allow her to have all the fun she deserves.
My routine before fun weekend activities
I usually bathe Sage every 15 days (every other weekend) or whenever she needs one. Bathtimes are usually reserved for the weekend's verses during the week. I'll be honest, sage doesn't like the water at first and was never interested until I introduced treats and squeaky toys into bath time.
Now all I have to do on a Saturday, in the late mornings, or afternoon, is to first bring out the treat, and then she knows what's next.
I have a particular treat I use whenever it is shower time and Sage loves them a lot. It wasn't until I started rewarding her with a treat after each bath that she would sit still.
I myself don't get to do a lot during the weekdays (other than work), which is why weekends are not just set aside for dog weekend activities, but also for me to unwind and prepare for the week ahead.
What do dog friendly activities mean?
Well, dog friendly activities are when there is a physical activity that involves your dog. these activities can be held at a place that we welcome pets of all types with open arms. Places such as the beaches and park are usually great places for dog friendly activities.
finding the best weekend activity
Finding the right weekend activity for you and your pet to engage in shouldn't be a difficult task. You can turn just about any weekend activity into a pet friendly weekend. You'll need a motivated dog and a little imagination.
I have put together a list of 7 fun things Sage and I do during the weekend. We encourage you to read through, as we believe you will find one that bests suit you and your pet.
1. 
Playing Fetch at a Dog Park
On Saturday afternoon or Sunday evening, Sage and I love to visit the St Louis University (SLU) Dog Park & Sculpture Garden. It is one of the best dog-friendly places in St Louis MO (entrance is free). If you are looking for a dog friendly places st louis and you're on a budget, then this is the perfect spot.
Once we get there, we engage in a game of fetch as she loves to run around the large park chasing and catching her world's toughest dog Frisbee.
I don't know of any active dogs that doesn't enjoy a good outdoor game of fetch. A good game of chase Frisbee is a way for your dog to exercise. While you can do this in your backyard at home, an outdoor dog park will be a lot more exciting for your pet; and you too.
At a dog park, your dog gets to engage with other dogs in dog-friendly activities…. Get it?! (pardon me, I couldn't resist). Also, restricting your pet to living indoors will make them lack the experience of interacting with other dogs.  It can cause them to become aggressive towards other dogs, pets and even humans.
2. 
Go for a Jog and Sight See
I always go for a jog on Saturday and Sunday mornings (or evening), and you can bet that I take Sage along with me. We usually jog from our front porch all the way across downtown St Louis.
Our jog takes us through Forest park where we spot the Saint Louis Art Museum/ Art hill, The Boathouse Restaurant for a bite and end it off by the beautiful Saint Louis Arch. All are great places to sightsee and are awesome dog friendly places in st louis.
When I started taking Sage out on my weekend jogs, she would get distracted every step of the way. A lot of stops and go… she would either try to outrun me or would drag behind. I would cut my exercise short because we never ran in sync, got tired of looking crazy in public. I decided to give a handsfree dog leash a try. It worked!!
The One Trail Hands free Dog Leash allows me to jog with her next to me stride for stride without having to take many breaks to keep her on the path.  It is completely comfortable for us both to use.
A great way for your canine and you to engage in a dog weekend getaway without the weekend getaway expense is to go for a jog and sightsee. You can take your pet out with you when you go on your morning (or evening) jogs.
If you and your dog aren't already in the habit of a weekend activity of jogging, I encourage you guys to get started as soon as possible.
One of my favorite weekend activities for dogs, not to mention is a great way for both you and your dog to exercise and stay fit (and also bond together).
3. 
Some more favorite weekend activities is Bike Around with your Dog
You can turn any activity into activities for dogs. That includes bike riding. Yes, thats right bike riding with your dog.
Another fun weekend activity you and your dog can engage in is to bike around town. If you know how to ride a bike, a bike ride along Forest Park trail is a good way for you and your pet to engage in outdoor recreation. There are so many dog friendly attractions in St. Louis Forest Park.
John F. Kennedy Memorial Forest
The Missouri Department of Conservation has installed hiking trails throughout the Kennedy Forest. You and your dog can Bike through the trail just like Sage and me… Who knows maybe we'll run into each other and trade great dog stories!  
When cycling with your dog, you will need to keep him/her on a leash. Pets have a mind of their own, and wouldn't hesitate to chase after the smallest thing such as a flying bug or engage in some form of mischief; if they get the chance. A good bicycle exerciser leash makes it easy for you to bike with your dog. It is also comfortable for you and saves you the stress of keeping your dog in line.
Biking is a good way for you to exercise and is also relaxing. You also get to enjoy the scenes, and it also affords your dog the opportunity to experience the outdoors, other than the backyard of your house.
4. 
Go Swimming with Your Dog as one of your weekend activities
During the summer the best activity for dogs is swimming. Unfortunately there are very few dog friendly pools in St Louis. Remember when I said you need a bit of imagination for dog friendly activities stl? Well, here's where we put on our thinking hat!
Creve Coeur Lake offers plenty of dog friendly activities in St Louis. Dogs are allowed to swim in Creve Coeur Lake.
One of the best weekend activity Sage and I engage in is to go swimming in the Creve Coeur Lake. I love to swim and Sage loves the water too. So we don't miss out on the opportunity to go splashing in the lake (especially when the weather is just right).
Sage is a fairly good swimmer. She knows how to paddle and keeps her head above the water. I still use a life jacket on her just to be safe. If you aren't going to be supervising (YOU SHOULD ALWAYS SUPERVISE YOUR DOG) your pet while they are in the water, I suggest you put them in a good dog life jacket.
Swimming is a great way for your dog to exercise. It also affords them the opportunity to regulate their temperature. With that being said safety should be a priority when you allow your dog to get into any large body of water.
5.
Weekend activities such as Hiking with your Four-Legged Friend
Active dogs love to stay busy and in motion, and would certainly be interested in some sort of adventure that keeps their motors running. I learned this about Sage when I took her on a hiking trip with a few friends.
She was highly energetic throughout our hiking trip and didn't want to leave when it was time to go. This made me include hiking at Castlewood State Park on the list of dog friendly activities near me.
Castlewood State Park is only 20 minutes from where I live. Sage and I hit the trails as often as possible.
With the Ruffwear Approach Pack, I am able to assign Sage her own load to carry. This gives her the motivation to run and a sense of being part of the team.
Dogs need regular exercise to maintain their athletic built, and going on a regular weekend hiking trip together will get the job done.
6.
Don't Underestimate the Power of Dog Walks
The St Louis Riverfront Trail offers the perfect opportunity to check out some great pet friendly restaurants after our walks.  It is one of the dog friendly places in St Louis that gives a chance to check out what the city has to offer. That's the reason why Sage and I frequently walk there during the weekends.
I find it to be very relaxing and Sage doesn't hesitate to greet with other dogs she meets along the way. Allowing your dog the chance to socialize with other dogs is always beneficial. Studies show dogs with little to no exposure to other dogs have a higher risk of becoming aggressive.
My regular weekend walk with Sage can only be interrupted when it rains. I enjoy taking her out for a walk and usually take her along to go visit friends.
When taking your dog on a walk, don't forget to keep them on a leash.
7.
Try Roller Blading with your Dog
At the Tower Grove Park in St Louis, you can easily spot dog owners roller blading with their pets. While I don't have too many skills to show on my roller blades, I do enjoy a nice time pacing around with Sage.
You'll need a dog leash if you are going to try roller blading with your dog. You also need to be extra vigilant and avoid getting into an accident with your pet or others.
Because Tower Grove is a close park, and skating is so much fun and such a great dog friendly activity near me it was also added to our fun list.
Let's conclude
You'll need to make sure to take out time for your dog; it is good for their emotional and mental health. Another important benefit of spending time with your pooch, your dog will trust you and build an unbreakable bond with you.
You can never run out of dog friendly activities you and your pet can engage in. But if you want to make the experience a memorable one for you both, then you should consider any of the fun weekend activities mentioned above.