20 Safety Tips That'll Make Taking Dog to the Beach a BREEZE!!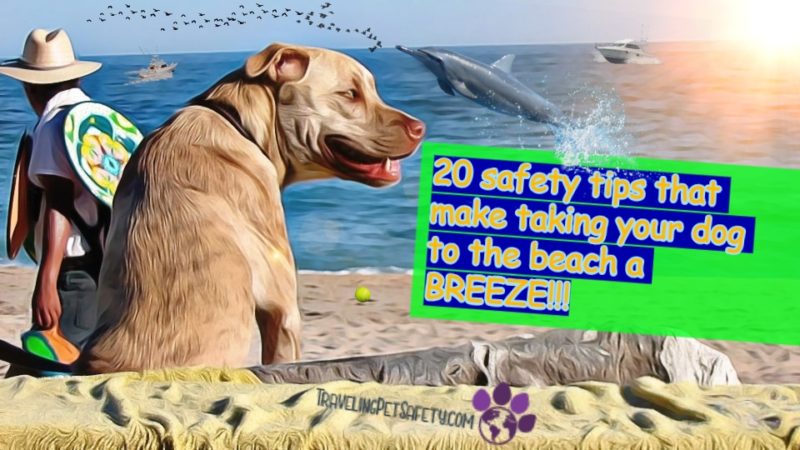 Are you planning on taking dog to the beach? Summer has officially arrived across North America (even in Canada). You might find not all beaches are as dog-friendly as you might think.
Many things come to mind when it's time to relax on a beautiful beach. These include the sun, sand, waves, of course, jellyfish and crabs!
During the summer you may find lots of other dogs roaming the beach enjoying the sand and surf as well. No matter how much your dog enjoys the beach, it may not be the best thing to do if you haven't prepared accordingly.
Are you taking your dog to the beach for the first time? Have they been there many times already? In either case, there are a few things you should know that will help keep your trip to the beach with pup safe and fun.
---
Products featured in this article
This contains links that lead to Amazon.com. All products have 2-day delivery with Amazon Prime.
If you do not already have a Prime membership, click the link and try Amazon Prime for a 30-day trial absolutely free! The program offers special benefits including:
Access to Prime Wardrobe
Instantly watch thousands of movies and TV episodes
Stream thousands of music
Borrow Kindle books
Get unlimited FREE two-day shipping (no minimum order size)
Taking your dog to the beach kit
Product Name
Product Image
Product Rating
on Amazon
Read reviews
about the Product
RUFFWEAR- Float
Coat Dog Life
Jacket for
Swimming
4.8 Star rating on
Amazon
Bayer K9 Advantix
II Flea, Tick
and Mosquito
Prevention
3.8 Star rating on
Amazon
SUPERJARE beach
camping Elevated
Pet Cot with
Canopy
4.5 Star rating on
Amazon
iCare-Pet First
Aid Kit with
Thermometer &
Veterinary
Otoscope
5.0 Star rating on
Amazon
QUMY Dog Boots
Waterproof Shoes
4.3 Star rating on
Amazon
TUG Patented 360°
Tangle-Free,
Heavy Duty
Retractable Dog
Leash
4.1 Star rating on
Amazon
Chuck It
Ultra Ball
(2 pack)
5.0 Star rating on
Amazon
Epi-Pet Sun
Protector
Spray for Pets
3.8 Star rating on
Amazon
COMSUN 2-Pack
Extra Large
Size
Collapsible
Dog Bowl
4.8 Star rating on
Amazon
So, without further ado, here are our favorite tips for taking your dog to the beach!
---
1)
Obey All Beach Rules and Signs
Not all beaches are dog-friendly and even those that are, often have restrictions. If you are going to a new beach, be sure you look around for signs that say, "No Dogs Allowed.".
Keep in mind if you do see signs banning dogs, DO NOT IGNORE. You may be fined if caught.
Instead, you should dog-friendly beaches nearby.
When you are at beaches that are dog-friendly, be sure you follow the rules listed under the "Beach Rules" sign to avoid fines or being kicked out!
Pay attention to time limits. You may end up taking the dog to a beach that allows dogs but may have specific rules such as time blocks or limited hours for dogs at the beach.
Unless otherwise stated on the sign, you should assume your dog must be on a leash. A long leash for beach use is always handy, but you should also carry a short one.
Remember violating any of the rules when taking your dog to the beach can cause trouble. You could up be stuck with a hefty fine that will ruin your day.
If you are taking your dog to the beach for the first time:
Practice walking your dog on a leash, that way your pooch will become familiarize with the area and isn't overwhelmed.
Reward and praise your dog for behaving.
2)
Be Aware of Other Dogs on the Beach
If you are planning on taking a dog to beach areas that are crowded or considering keeping them off-leash, make sure your dog listens to commands and beware of other dogs! It's a safe bet if you are there with your pup, there are others there with their puppy on beach as well.
Your dog should avoid when at a dog off lease beach
Aggressive dogs – Beaches tend to be a place where dogs who are bullies pick on the other dogs. If your dog is not the type who is easily bothered, you may want to keep them on a leash. Other options are to move to a different part of the beach, politely ask other owners to keep their dog away or just take them to another beach.
Dogs in heat of the opposite sex – I shouldn't have to explain what happens when dogs of the opposite sex in heat get together. I don't know about you, but I don't want a bunch of little Sage's or Fido's running around.
Another reason this should be avoided, dogs in heat also tend to arouse the desire in male dogs, which can lead to serious dog fights. These are almost certain to result in multiple nasty injuries.
Female dogs that are in heat – Female dogs in heat tend to be a little more aggressive than they usually are. In which case they may not get along with the other dogs at the beach.
Unvaccinated dogs – This is harder to spot as there aren't many indicators that a dog is unvaccinated.
Keep an eye out for the usual suspects
Keep your eye out for is stray dogs as 95% of the time they may not have been vaccinated wandering around.
Look out for people who have young puppies, as they may not have all their shots if they are under 5 months.
In either case, your dog could potentially catch something from another dog at the beach if you are not careful. You may not be able to prevent your pooch from running into an unvaccinated dog, but what you can do is make sure your pup is up to date on their shots. Believe me, it'll help put your mind at rest.
3)
Pack Your Pooch's Favorite Toys
Taking your dog to the beach for the first time can be overwhelming, this is true even for dogs that have been many times. By packing them a travel bag with their favorite toys can help calm your dog by offering familiarity. Remember, the bag should also include food and water bowls, dog treats, sunscreen and dog leash for beach.
Be sure you choose toys that aren't going to be damaged by water and toys that float.
One dog beach essentials I usually bring along a frisbee or one of these heavy-duty rubber balls from Chuckit when I go to the beach with Sage. Either one is perfect and is sure to be a lot of fun in the sun.
Be sure you thoroughly rinse the salt and sand off any toys that you brought to the beach with you. Often both sand and salt from the water contain a number of tiny parasites that are harmful to your pup's digestive system.
4)
Make Sure Your Dog Can Swim
Often people assume all dogs can swim, after all, isn't that where the "doggie paddle" comes from, Right? That is an absolute myth!
Some breeds can't swim such as Corgis and Pugs.
Others breed fear large body of water such as Alaskan Malamutes.
Before taking your dog to the beach and letting them get into the water, make sure you have practice swimming in a shallow pool. If you're unsure your dog can swim I wouldn't suggest letting your pooch get into the water. I cannot stress this enough; Swimming is not something that comes naturally to all dogs.
Just like in the previous point, dogs that can't swim or even strong swimmers should be wearing a life preserver such as the RUFFWEAR Dog Life Jacket. The water at the beach can be unpredictable and can pull your dog under a rip current. A dog life jacket can save your pets life.
Be sure you choose a life vest that fastens at three points and has a handle on the back. This way you have something to grab onto if you need to lift your dog out of the water.
The life preserver is to help them stay afloat in the swirling waters. There is a huge difference in pool/lake swimming and the ocean. Even the best swimmers can struggle in the surf.
Check out this great training video all about teaching your dog to swim. This video worth watching before hitting the sand and surf with your pup. Zak George of Dog Training Revolution walks you through step by step do's and don'ts when it comes to teaching a dog to swim.
5)
What if Your Dog Swims Out Too Far?
A good rule of thumb is to always keep your eyes on your dog especially when they are near the water. A lot can go wrong if you allow your canine to swim or get swept out too far.
For instance, if your dog has been running around or swimming for a long period of time this can exhaust your dog and if they swim too far into the ocean, they may not be able to make it back to shore.
You should also keep in mind the further you go into the ocean some areas are very cold. It may cause your dog to cramp up, which would leave them unable to swim back to land.
Another obstacle, your dog may come across in the middle of the ocean are Jellyfish, that's right, I said Jellyfish! If you live in an area prone to jellyfish, it a matter of when versus if there'll be a sighting. As you know, dogs are curious by nature and are sure to investigate, which would cause them to be stung by a jellyfish. Be sure you check with locals from the area or ask the lifeguards if there were any jellyfish sighting.
Sharks are another good reason to keep your pooch close to shore. The likeliness of them getting bitten by a shark are slim but its something to think about.
6)
Don't Let Your Pup Drink Water from the Ocean
Your dog is going to ingest some saltwater if they go swimming. However, you should never let them actively drink from the ocean.
The saltwater can dehydrate your dog and cause other issues. These include diarrhea, vomiting, dry sticky gums, and thick ropey saliva.
Be sure you have plenty of fresh water on hand for your dog. When they take a drink, it will help wash some of the salt and minerals from his gums.
By giving your dog fresh water will prevent dehydration and also clean their system which also prevents diarrhea.
7)
Pick Up After Your Dog
People, please, please, PLEASE pick up after your pet after they use the bathroom. Not only is it unsanitary it's nasty. No one wants to step in dog poop while trying to enjoy the sun, sand and the water.
You can get a dog poop bags that come with a handy dispenser for next to nothing. The dispenser attaches to your dog lease and makes it easier to pick up after your dog.
Bring an extra-large Ziploc bag to put the filled poop bags in until you can dispose of them. Pretty simple, right?! Now, you or other beachgoer don't have to worry about stepping on any kaka bombs!
I came across this hilarious video titled "Pick Up After Your Dog" by GloZell that I just had to share. I hope you get a kick out of it as much as I did!
8)
Avoid Busy Areas When Taking Your Dog to the Beach
Both you and your dog should stay away from busy areas. This means areas full of swimmers and those where various types of watercraft.
Interaction between your dog and people in the water may be an issue when taking your dog to the beach. But more importantly, most people just don't want to be near a dog that might poop or pee in the water.
The choppy water churned up by boats and jet skis are very similar to large waves. They can easily overwhelm your pooch, stick shallower calm areas.
9)
Don't Forget a Good Leash
As some of you know, not all dogs are responsible enough to be off-leash at the beach. For example, if you have a young puppy it wouldn't be a good idea to let him roam freely. As they may get lost or may even get into something that they shouldn't.
Dog leash for beach
Keeping your dog on a leash isn't a bad idea when taking your dog to the beach, even off-leash beaches. By keeping your dog close to you, they will behave better and stay away from any potential dog fights.
If you can't find your dog an off-leash beach, a retractable leash like the TUG dog leash. Strong enough for up to 100lb dogs and long enough to let your dog play or swim when there's room. It's the perfect dog leash for beach use.
10)
Make Sure Your Canine Is Up to Date on Vaccinations
Every state requires all dogs to have their rabies vaccinations. Your dog should also have their DHPP (Distemper, Hepatitis, Parainfluenza, and Parvovirus) shot. It's a single shot that will protect your dog from all four diseases.
Bordetella bronchiseptica
Canine Parainfluenza
Corona Virus
Heartworm
Leptospirosis
Canine Hepatitis
Lyme Disease
Parvovirus
Kennel Cough
Canine Distemper
You never know about the other dogs running around on the beach. The best thing you can do is protect your dog.
11)
Provide a Cool Down Area for Your Dog
Having your puppy on beach sand in the middle of summer can be a lot of fun. But just like you, your dog can quickly overheat and be at risk of sunstroke.
You can either find a shaded area or create one. You can lay towels for your dog to lie on (to protect him from the hot sand). Provide shade for your dog with a beach umbrella. Another option that I feel is underrated is a beach tent made for fur babies.
These tents offer plenty of room and cooling shade for your dog. Alternatively, you can use a beach umbrella, the main point is to create some shade.
Bring a collapsible water bowl and plenty of bottled water for your dog. If possible, keep it a cooler, the cold water will help your dog cool down faster.
12)
Make Sure Your Dog's Home Information Is Up to Date
We all have it firmly fixed in our minds that when we have our dogs at the beach, they come home with us.
But what if you buy a good dog leash for beach use and your dog slips their collar? What if they run off as soon as you unclip the leash?
Does your dog have an ID tag with his name, a current phone number, and address on it?
Tags for Hope offers tags that are like miniature driver's licenses, complete with a photo of your pet. If you use my promo code "PETSAFETY15" you'll get 15% off everything on their site.
Is your pup micro-chipped? Before you start looking for a beach for puppies, consider having a microchip embedded in your pup. Providing you keep the information online up to date; it can help whoever finds your dog find you.
13)
Protect Your Dogs Paws
In the middle of summer, the sand can reach temperatures that are far too hot for puppies on the beach. If you can't walk comfortably on the sand, it's a safe bet the hot sand burning your pup's paws.
The hot sand can get in between your dog's paws and toes, when this happens it burns the delicate skin. It can also rub on this soft skin and cause significant damage.
The beach is nothing but sand for miles, right? Wrong, the sand is full of sharp things like soda cans, broken bottles, metal scraps, shells, rocks, even wood.
The best way to protect your dog's paws is with paw pads such as these from QUMY.
These are waterproof boat shoe for dogs and one of our favorite dog beach essentials.
They are designed to protect your dog's feet on the beach and in the water from sand and sharp objects.
14)
Clean Sweep a Designated Area Before Letting Your Puppy on the Beach
There is a significant risk of cuts when you let your puppy on the beach. You should consider doing a quick clean sweep before you let your dog play.
Carry a trash bag with you while you search for sharp objects and dead animals. Look for anything your dog might turn into his new chew toy.
The few minutes you spend sweeping your spot on the beach make taking your dog to the beach a lot safer.
15)
Make Sure Your Dog Stays in Sight
If you are taking your dog to an off-leash beach, be sure you can always see them. You should keep them close enough to hear your commands.
Keeping your dog in your site will assure they don't wander around bothering the other beachgoers. It also means they will reduce the chance of them getting in fights, runoff, or drowning.
16)
Be Sure You Have Your Dog on Flea and Tick Treatment
Can fleas live on the beach?
I'm sure if you've ever spent time at the beach, you may remember having itchy feet and ankles. This is because sand fleas jump onto your skin and bite away. Their source of survival is feeding on your blood.
They typically do not follow you home, however; they prefer to live in these soft, sandy, moist areas instead of your carpet as regular common fleas live.
Do ticks live on the beach?
The short answer is yes, deer's, raccoons and birds are prone to carrying ticks. They wander out on the beach when people are not around if near a forested area. Keep in mind other dogs on the beach may be carrying tick if they haven't been treated. These animals all carry ticks to the beach where they fall off and look for their next host.
The beach is full of fleas and ticks, along with other parasites. Your dog should already be on a flea and tick treatment.
If they aren't, be sure you take care of it before going to the beach.
If your dog comes home with ticks, read, "Clear tick infested dog in 10 minutes, here's how." This guide will walk you through the entire process step by step, something your pup is sure to appreciate.
17)
Dealing with Extreme Heat When Taking Your Dog to the Beach
Are you thinking about taking your dog to the beach? Before you take your puppy on the beach, make sure you pay attention to the weather.
Don't let the cool breezes blowing in off the ocean fool you. The temperature at your favorite beach skyrockets at the peak of summer.
Dogs don't sweat to cool down like humans, they cool themselves down by panting and drinking cool water. Overheating can lead to heat stroke which can be fatal.
Extreme heat is harmful to dogs if you're not prepared. Bring plenty of water to the beach for your puppies. Try to go early in the morning or late in the evening when it's cooler outside.
Limit the amount of time you spend with your dog at the beach.
Be extra careful with snub-nosed dog breeds
Taking dog to beach is a lot of fun but if you have a boxer, pug, bulldog or any other brachycephalic breed, they are even more susceptible to the heat.
These short-nosed breeds have trouble cooling themselves down due to their shortened nasal passages.
Their pushed in faces structure restrict their airway passages and limit their ability to breathe freely or even cool down.
Keep a water bowl and plenty of cool fresh water on hand along with a shady place for your dog to rest.
If your dog is panting excessively, with a dry nose or gums, vomiting or becoming lethargic they are likely suffering from a heatstroke. You need to cool them down with water, shade and take them to a veterinarian immediately.
18)
Sunscreen for Your Dog at the Beach
Some dog breeds are at higher risk for sunburns than others:
Short hair dogs
Hairless dogs
Dogs with pink ears
Pink or red nose dogs
Dogs with white fur
Dog Breeds Most Likely to Sunburn
American Staffordshire Terrier
Boxer
Chinese Crested
Dalmatian
Greyhound
Weimaraner
Whippet
White German Shepherd
Look for signs that may suggest your dog skin has had too much sun exposure. If your dog is sunburned, his skin will look pinker than normal. It might be more sensitive to the touch, as well.
Just like you, the best way to protect your dog is to use a pet-friendly sunscreen. Epi-Pet sunscreen for pets is the one most commonly recommended by vets for use on dogs.
To use, mist your dog from top to bottom and front to back. Repeat every 4-6 hours for the best protection, no one wants a sunburned pup!
19)
Pack Plenty of Dog Food and Water
When taking your dog to the beach, be sure you bring along plenty of food and water. Your pup might get hungry and they are going to need plenty of water throughout the day.
To make packing for your dog's day at the beach easier, consider picking up a couple of collapsible bowls. They are lightweight and easy to pack but play a vital role in keeping your dog hydrated.
20)
Do I Need to Wash My Dog After the Beach?
Many dog owners ask the same question, "Do I need to wash my dog after the beach?" The simple answer is an emphatic "YES!"
If you have a dog like Sage that likes to dive into the surf and dig for seashells and crabs in the sand, keep a bottle of water cool to rinse off their face. All that sand and salt can be really irritating to your dog's skin.
Rinse your dog off with clean water each time you come back from the beach, then follow up with a soothing, natural shampoo if your dog has sensitive skin. If you're staying at a cottage, most have outdoor showers and hoses with warm water that are ideal for rinsing off your dog
Keep in mind your dog is running around on miles of sand with millions hidden germs. They will also face parasites and bacteria.
Washing your dog will help to rinse the unwanted foreign bodies from their coat. It will also help cool them down after a hot day at the beach.
Two Important Bonus Tips for Dogs at the Beach
1)
Make Sure You Bring a First Aid Kit
Hopefully, you won't need it, but it's wise to have a first aid kit on hand in case of injuries at the beach.
The iCare-Pet Pet First Aid Kit is a great pre-packed option to keep in your car; it includes first aid essentials for canines and humans alike.
When taking your dog to the beach, pack a small first aid kit just for them. It should contain;
Cotton Balls
Ammonia (dilute before use on jellyfish stings)
Hydrogen Peroxide
Bandages
Spray Sunscreen
Alcohol Wipes
Wet Wipes
Gauze
Saline Eyewash
Q-Tips
Be like a Boy Scout, prepared for any emergency by planning ahead and carrying a first-aid kit.
2)
Protect Your Dog's Ears
Taking dog to the beach is a lot of fun! But, if your dog is prone to ear infections, should be even more cautious when they get into the water.
After swimming or a bath, dry your dog's ears thoroughly to protect them from ear infections. You can use a general ear cleaner after baths and swimming.
If your dog ends up with an ear infection consult a veterinarian for which cleaner is best for your dog.
I know I mentioned it earlier but be sure to apply sunblock to their ears thirty minutes before heading out for the day.
Conclusion
Taking your dog to the beach can be an incredible amount of fun. But unless you follow the rules and take the necessary precautions to protect them, it can quickly go south.
Remember to prevent dogs from entering areas that are marked as off-limits, which may often be environmentally protected areas or hazardous to your dog.
If you would like to learn more about taking care of your dog, visit TravelingPetSafety.com. Our site is filled PAWSOME content and we are planning to add much more. So, Come on join the fun and continue to support our community!
If you enjoyed this article, you might enjoy these as well:
*** Furthermore, if you are planning a vacation this year, visit Booking.com before you make your plans. Booking offers thousands of discounts on flights, hotels, car rentals and, various vacation packages. ***
---
Products featured in this article
The featured article contains links that lead to Amazon.com. All products have 2-day delivery with Amazon Prime.
If you do not already have a Prime membership, click the link and try Amazon Prime for a 30-day trial absolutely free! The program offers special benefits including:
Access to Prime Wardrobe
Instantly watch thousands of movies and TV episodes
Stream thousands of music
Borrow Kindle books
Get unlimited FREE two-day shipping (no minimum order size)