Rhodesian Ridgeback Shedding and How to Reduce Hair Loss in Dogs.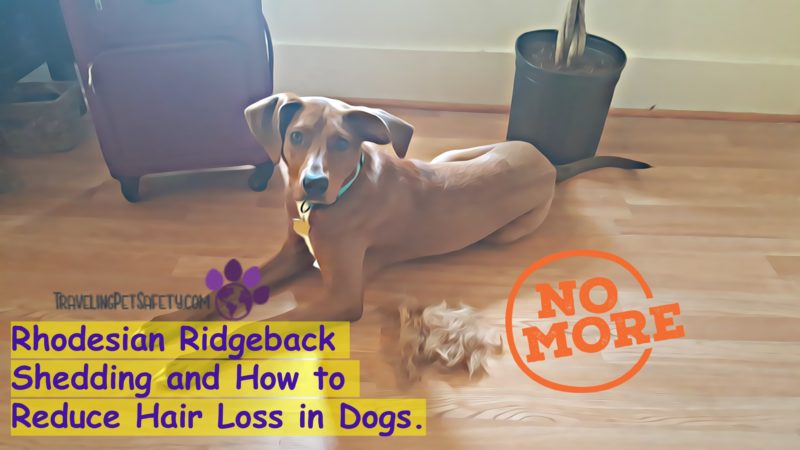 If you own a Rhodesian ridgeback or any short haired dog, then you certainly wouldn't have to do much when it comes to grooming. This is because; they barely shed their hair, saving you the stress of having to clean up after them every time. The thick coat on the Rhodesian ridgeback and its minimal shedding is the reason why we at travelingpetsafety think it's easier to spot ticks on the body of short haired dogs than long haired breeds.
Just in case you recently took delivery of a new puppy and are wondering what to expect when she reaches maturity, we've taken the liberty to present you all the juicy, and not so sweet details of our favorite short haired dog breed.
---
Products featured in this article
This contains links that lead to Amazon.com. All products have 2-day delivery with Amazon Prime.
If you do not already have a Prime membership, click the link and try Amazon Prime for a 30-day trial absolutely free! The program offers special benefits including:
Access to Prime Wardrobe
Instantly watch thousands of movies and TV episodes
Stream thousands of music
Borrow Kindle books
Get unlimited FREE two-day shipping (no minimum order size)
Product Name
Product Image
Product Rating on
Amazon
Read The Reviews
on Amazon
Free Paws Pet
Dryer Dog Hair
Blower
4.5 Star Rating on
Amazon
Purina Pro Plan Focus
Sensitive Skin & Stomach
4.3 Star Rating on
Amazon
FURminator for Dogs
Undercoat Deshedding
Tool for Dogs
4.7 Star Rating on
Amazon
Zesty Paws Omega 3
shed control Chew
Treats for Dogs
4.6 Star Rating on
Amazon
Pet Grooming Gloves
4.5 Star Rating on
Amazon
Wahl Shed Control
Pet Shampoo for
dog Shedding & Dander
4.3 Star Rating on
Amazon
Bamboo Groom
Palm-Held Brush
for Pets
4.3 Star Rating on
Amazon
So, without further ado, here are our favorite tips for Rhodesian Ridgeback Shedding and How to Reduce Hair Loss in Dogs.
---
What is a Rhodesian Ridgeback?
Rhodesian Ridgebacks are short haired dog breeds that are native to South Africa. They are not overly aggressive and are highly affectionate which could be the reason why they are one of the most popular hound dogs. My 8 months old pup Sage is extremely playful and can be quite hyperactive. Although, so doesn't fail to remind me often that she can be quite stubborn. She's generally a sweet pooch who loves to lick a lot. One thing you can easily spot is her large floppy ears.
At maturity, female Rhodesian ridgebacks can weigh up to 38kg and the males can reach weights of more than 48kg depending on how much you feed them. They have an average lifespan of 13 years, but they can live to be 16 years or more. Sage has a red wheaten color on her coat with a white "shirt" on her chest.
Some others have a lighter colored coat or black hair around their skin. You can also see some ridgebacks with a lot of white hair on their belly and around the toe area.
A picture of Sage
The ridge of hair that runs along their back is their main distinguishing factor that separates them from other short haired dog breeds. The athletic built, sleek, and shiny appearance is also one feature I love most about Sage.
She is loyal and intelligent and is already familiar with the commands sit, stay, and lay down. She can also easily find her paw and can catch treats thrown at her. Her favorite activities include playing in the water and going on a car ride. She also enjoys cuddling and playing fetch or tug of war.
Sage Relaxing on the Front Deck
Now that we have discussed a little about the features of Rhodesian ridgebacks using Sage as a case study, I will now be letting you in on some of the dog shedding tips I know.
What is Dog Shedding?
Shedding is a completely normal procedure for dogs. Most dogs naturally lose damaged or old hair from time to time. However, the frequency and amount of hair they lose can depend on a number of factors including the breed of dog and the health condition. Another main factor that determines shedding is the season. Dogs are known to do more shedding during spring, this is because they grow thick coats during the winter and shed them when spring sets in.
Dog shedding should not be much of a problem for you if you own a short haired dog.
As you can see for the photo above, Sage didn't want any parts of dog shedding photo opp. She kept running off whenever I tried to take a picture of her and her fur ball.
This is not to say that owners of long haired Rhodesian ridgebacks or other dog breeds are at a disadvantage. With the right grooming tools, you can easily make hair loss less of a problem for you and your furry companion. If you want to reduce the manner at which your dog loses its hair, then you want to take extra precaution especially during bath time.
Before I share with you my secret tips on how to reduce dog shedding, let's find out how often Rhodesian ridgeback shed.
How much do Rhodesian Ridgebacks Shed?
While you cannot stop your healthy dog from losing its hair, there is a lot you can do to limit the quantity of hair that litters your home. You can expect to see your healthy Rhodesian ridgeback shedding its hair frequently, this is completely normal and shouldn't be a cause for alarm. You should be worried when you begin to see high amount of hair around the house as this could be a sign of poor nutrition or stress. It could also mean that you need to take your pooch to the vet.
Why do Short haired dog breeds shed?
Well, like I mentioned earlier, it's because pets tend to shed during seasonal changes because they grow certain hairs to help keep them warm or cool. I'll explain seasonal shedding dogs further down in the article.
During the exogen or shedding phase, they lose hairs in order to make room for new hairs to grow (the anagen phase).
Each animal has its own shedding series, depending on its breed and history. For example, some animals shed not just with the season, but because of stress or allergies too. Sometimes the process of shedding can cause discomfort, so it is a good idea to assist your pet through it using the right tools and techniques. Don't worry Amigos, I have you covered!
When is Dog Shedding Season?
A lot of readers ask us when dogs shed their fur the most. Like we mentioned earlier, there are a lot of factors that determines how much hair your dog loses and the weather condition is one of such factors. During the cold winter months, dogs grow a thicker coat to be able to survive the extremely cold weather conditions. Once the cold subsides as soon as spring sets in, they begin to shed the excess fur on their skin to adjust to warmer temperatures.
It is safe to say that spring is the shedding season for dogs, so it is quite normal to find more fur on the couch and rug during this time of year.
Dog Shedding Tips
There are precautions you can take to limit the amount of hair your dog sheds. We have outlined a few of them for you below.
Brush your Dog Regularly
When grooming your dog especially, you will need to make use of a brush. This is so you can loosen tangled hair and remove any tick that may be hiding in your dogs' undercoat. This bamboo brush is popular among dog owners who groom their dogs personally. We always advise to make use of pet grooming gloves before getting started.
Use a Shed Control Shampoo
 A quality shed control shampoo also helps to prevent hair loss. This is because they are formulated with essential oils that help to prevent excessive drying of your dogs' coat. This Wahl Shed Control Shampoo is designed simply for the purpose of reducing hair loss in both short haired and long haired Rhodesian ridgeback and it is what I use on Sage.
Use a Deshedding Tool
A deshedding tool can also come in handy to help remove the loose hair from your dogs' overcoat. This tool is different from the dog brush as it is specifically designed to remove loose dead hair without causing any damage to the top coat of your dog. The FURminator for Dogs Undercoat is an example of a quality deshedding tool you can spend your money on.
Use a Blow Dryer Instead of a Towel
You also need to get your dog a blow dryer to help keep their coat dry immediately after a shower. An electric or battery powered hand dryer is a better option than a dry towel. In addition to being a lot more comfortable for you and your dog, it also does the job quickly. This dog hair blower from Free Paws is making all the waves among professional groomers.
Use a Dry Food that Supports Skin Health
Another trick you can employ to reduce shedding in both short haired and long haired Rhodesian ridgeback is to feed them the right type of dry food that works well for all sensitive stomach and skin. With a proper diet, you can provide your dog with the right nutrients to support healthy skin with minimal shedding. The Purina Pro Plan is a perfect choice for dry food that limits shedding in dogs.
Give your Dog Treats that Reduce Shedding
You can also reduce shedding in your dog by feeding them shed control treats. The Zesty Paws Omega 3 Chew Treat is a good treat that helps to control shedding in dogs. I give Sage this treat always after grooming and she seems to like it a lot.
Take Away
Before we conclude, I will like to add a quick recap on the major points in this article
Rhodesian ridgebacks are highly affectionate dogs and are a good choice for a companion dog.
It is completely normal for all dogs to shed their skin often.
Rhodesian ridgebacks are short haired dog breeds and they shed less hair compared to long haired dog breeds.
Dogs shed more during spring immediately after the cold winter months.
Brushing your dog's hair regularly can reduce shedding.
A shed control shampoo is a good choice for dog shampoo.
A deshedding tool is also a good investment.
A blow dryer is better than a dry towel.
Adopt a dog nutrition that supports healthy skin.
Use a shed control treat to reduce shedding.
A pet grooming bag and a pet passport are two things you should consider investing in right now. While the grooming bag will make grooming more fun for you and your pet, the pet passport will save you time and money at the airport.
Rhodesian ridgeback shedding can be avoided with the right grooming tools and a healthy dog diet. Do you own a Rhodesian ridgeback or any other short haired dog? How do you cope with shedding? We will like to hear from you in the comment section.
---
If you would like to learn more about taking care of your dog, visit TravelingPetSafety.com. Our site is filled PAWSOME content and we are planning to add much more. So, Come on join the fun and continue to support our community!
If you enjoyed this article, you might enjoy these as well:
---
Products featured in this article
The featured article contains links that lead to Amazon.com. All products have 2-day delivery with Amazon Prime.
If you do not already have a Prime membership, click the link and try Amazon Prime for a 30-day trial absolutely free! The program offers special benefits including:
Access to Prime Wardrobe
Instantly watch thousands of movies and TV episodes
Stream thousands of music
Borrow Kindle books
Get unlimited FREE two-day shipping (no minimum order size)