Can a pet passport save you time and money at the airport?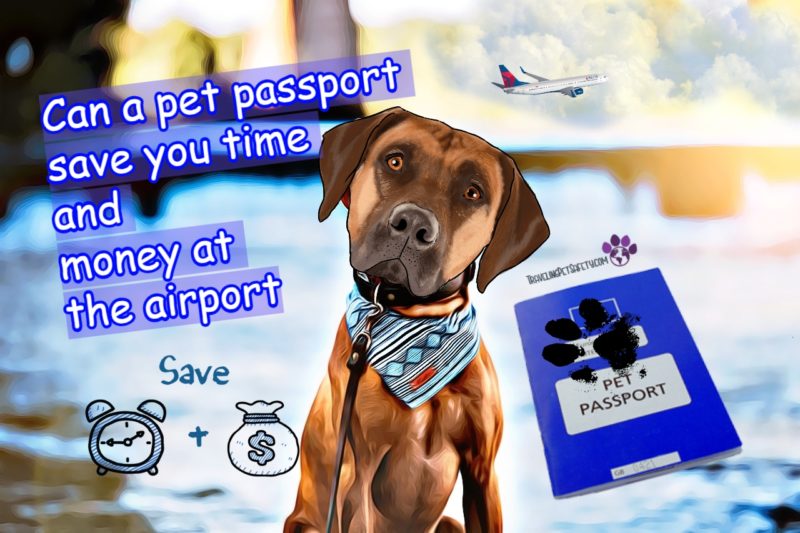 Ah… Pet passport! What can I say? Honestly prior to this year I didn't spend much time thinking about pet passports.
Like you, I didn't have a reason to care about a dog passport until I had to. Once I adopted my Rhodesian Ridgeback Sage form the pet shelter, that all changed! Not only did we get a new dog, I am also planning a family trip to Europe next year!
With that being said, I just can't leave my adorable floppy-eared pup Sage "the queen of dogs passports USA" behind. Yup, that was definitely a corny joke and I totally chuckled. As you continue to read, you'll get used to my weird humor and come across plenty of my lame jokes. You've been warned!
Alright, let's get back on track. When I first decided to plan the trip, I found myself wondering:
Do dogs need passports to travel?
Turns out, they do!
Actually, they need a lot of documents, which was intimidating for me, as it is my first time flying with a pet. Not only is it intimidating the whole process can be a bit confusing as well! Guess what?! You will not have to go through figuring out which documents are needed for your pet to travel.
I will walk you through the whole process the same as I did to get a dog passport and, as well as help you keep your pet traveling documents organized and in one place. No worries, Pet-vengers are here to rescue you!
We've chosen the top questions about pet passports—from, how to get a US pet passport to how long one lasts.
But first…
THE BIG PICTURE
There are plenty of companies out there that sell dog passports, but very few have as many perks as Tag for Hope. I got my dog Sage customized pet passports from Tags for Hope. The decision to go with Tag for Hope over another company was due to their low prices and my soft spot for animal shelters.
Tag for hope send proceeds from each purchase to animal shelters across the country. This tipped the needle in their favor for me.
Sage is a rescue dog and spent time in a dog shelter because her previous owner was unable to take care of her. I do my best to support companies that have a soft side for rescue shelters.
Keep organized with united states pet passport from Tag for Hope
You can track and record all your veterinarian's notes after each visit.
Forget cluttered pet records and save all your pet's information in one place.
With all the excitement and everything else that goes on when traveling abroad, I am sure I would forget a piece of document. A mistake like losing of forgetting travel document would ruin anyone vacation.
With an easy to use documentation system help place all the necessary travel information in one place. This virtually eliminates any potential errors.
It is expensive to replace any lost document and may even cause you to have to leave your four-legged friend behind. Not the best way to start a vacation.
Before you travel
Make sure to double check that the vet has filled in the following sections in your pet passports:
details of ownership – you must sign section I if your pet passport was issued on or after 29 December 2014
description of animal
marking or identification of animal
vaccination against rabies
rabies blood test(if needed)
details of the vet issuing the passport (for passports issued from 29 December 2014)
your dog's tapeworm treatment(if needed)
Now, to the questions!
What is a Pet Passport?
A pet passport is a piece document that formally records information to a specific animal species, as part of that procedure to travel overseas with an animal.
An animal passport speeds up and simplifies pet travel and shipment of animals between member countries. This is accurate when the regulations and steps are followed correctly.
A pet passport helps your awesome canine breeze through the airport boarding process. It combines all the information you need into one document to save you and the border officers a headache.
Efficiency at the airport is key as Sage is a little rowdy and want to greet everyone when she's in a new setting.
Wait, what kind of documents are in a dog passport USA?
These nifty passports hold as much information as the country you are visiting requires.
Most countries require a health certificate from a vet. This will verify that your pet is up to date on its vaccines and tests!
Some countries take a step further and require that a USDA accredited vet endorse the certificate.
If you are getting a pet passport to enter the United States, you should watch this handy video! It breaks down what you'll need.
Seems simple enough, right? But there's another wrinkle: Timing.
How long does pet passports last?
Pet health certificates do not last forever. For example, to go to Europe you must enter a European Union member state within 10 days of your certificate being issued.
Once you are in the (EU), it is good for four months.
Pet passports, on the other hand, last a lot longer. These documents are big enough to hold multiple entries from vets!
That means that every time you get new health documents, you can add them right to your record. Then you'll have a handy archive, which can save you money and time in the long term.
4a.

Is the European Union (EU) Pet Passport Similar to a US Pet Passport?
Kind of! But the process for getting them is different because EU pet passports are more formal than how you would obtain an American dog passport. Not surprising, right …
Easy but not that easy
In the United States, pet passports are informal and aren't as strict when collecting required documents. Please don't mistake what I'm saying, they may not be as formal that does not mean things chaotic. You will not be able to travel with your pet if you present a dirty napkin as a document that says "let my pet on-board". No, seriously you will be rejected!
You will still need the proper documentation to travel with Fido.
The European way of doing things
In the EU, pet must comply with the Pet Travel Scheme guideline.
To travel with your dog, cat or ferret to any of European Union country, your pet must be microchipped first. Vaccinations that are administered prior to the microchip will not count.
This is true even if your pets have current rabies vaccination that hasn't expired. Your pet must still be re-vaccinated for rabies immunization after the microchip has been implanted.
Get it straight 
Apparently, there have been a few cases where people have tried to get European pet passports in the US and Americans Travelers who attempted to get animal passports in Europe.
Here's the thing: According to aphis.usda.gov you cannot get EU pet passports in the United States and vice versa. Which make a lot of sense, you wouldn't go to Burger King for a Big Mac or to McDonald's for a Whopper, right. The same idea goes for the passport game!
4b.

What's the Actual Difference between the Content of a Pet Passport USA and Pet Passport EU?
As I mentioned in section (4a) there are very few differences. There is one key difference between the two countries. The European Union requires that all pet has proof of tapeworm treatment prior to entry.
In America, tapeworm treatment isn't required in all case for entry.
Here's a quick breakdown of the difference between dog passports from the EU and the US.
| Requirement | US pet passport | EU pet passport |
| --- | --- | --- |
| Microchip | Nope | Yes |
| Rabies Vaccine | Yes | Yes |
| Tapeworm Treatment | Depends | Yes |
| Official Vet Certificate | Yes | Yes |
FYI, you can think of a microchip like a pet passport number. It is a way of keeping track of your pooch!
Can anyone enter information in a EU Pet Passport or US Pet Passport?
The simplest answer to that question is, No!
Only an accredited veterinary can fill out a US health certificate. In the case of a USDA official endorsement, Certain accredited vets can do that. So, ask your vet they're able to fill it out for you. In the event, your veterinary is unable to complete the form, then ask for a referral.
As far as for the basic passport information, you can fill it out yourself. The portion that requires basic information about your pet isn't as strict for United States pet passport. Which is why you're able to customize dog passport like the ones offered by Tags for Hope.
The EU pet passports have some sections that can only be filled out by official vets authorized by the EU. It depends on which country you are traveling to, in some cases EU will allow the document to be filled out by foreign vets.
How Much is a Dog Passport USA compared to an EU Pet Passport?
MoneySuperMarket.com estimates that an EU pet passport costs between £150 to £250. That is approximately $190 to $317 in US dollars!
In the United States, there are more affordable ways to get the job done. If you take advantage of resources like shelters and local vets, you can pay as little as $50 dollars for the necessary shots and certificate.
Once we add the handy passport, which costs between four and 60 dollars, you are still coming in well below the EU version!
When it came to my pawsome pup, I chose Tags for Hope which offers dog ferret and cat passports at reasonable prices.
Since I love to share, you lucky readers of this article can get 15% off on anything on the site by using the promo code "PETSAFETY15"
Do I need a special service dog passport?
You do not need a special passport for your service animal! It's the same process.
Just be ready to show official paperwork proving your emotional animal is legitimate (this will be a note from your medical doctor or mental health professional stating that you need a service animal).
A Tip: Most airlines have their own policies when traveling with an emotional animal. Some airlines and as well as travel destinations may want different documents. People with service pups should take a peek at 12 delta pet policy you need to know before traveling in-cabin article.
Do Pets Need Passports to Travel Overseas?
This is the big one!
At the end of the day, it depends on what you mean by "need." You will need documents for your dog to travel internationally; passports simply bring them together, making your life easier.
Look, travel is tough. Lines are long. Customs agents are tired and usually cranky. So, simplifying the process make things move much faster.
You should also consider getting a pet passport if you and your pet are a frequent flier. With as many shots your pawsome pooch will need, the last thing you need is to lose documents… Believe me, keeping track of that many documents a mess and replacing them costs time and money.
If you like to keep your whole family—including pets—together as much as possible, it might be time to invest in a pet passport.
So…how do you do it?
How to Get a US Dog Passport?
Here at TravelingPetSafety.com, we are always thinking in terms of our furfriends, we decided to take you through the steps we took to get Sage ready for her first European adventure!
Step 1: Explore the Visiting Countries Regulations
Before you book a flight, it is important that go over the regulations of the country that you plan to visit.
But wait! I'm sure you're thinking…
What if I want to take a twenty-country tour with my pet? Do you need to spend time crawling through each of their government's websites for answers?
Nope! What type of blogger do you take me for? That's just cruel.
The good people at the U.S. Department of Agriculture have created an excellent webpage that allows you to explore regulations by country using a quick drop down menu! We cannot recommend it enough.
That's the site I visited to make sure Sage and I would be able to take our three countries tour (France, United Kingdom, and Greece) in The EU together. So much easier wouldn't you say?
Step 2: Shots, shots, and implant
You need to make sure that your furry friend has all of the shots it needs to gain entry.
In our case, Sage had her first rabies vaccine a month ago. Without it, she wouldn't have been able to travel abroad.
Again, if you are traveling internationally, tell your veterinarian about your travel plans as quickly as possible. Both you and your vet can discuss your options to make sure your pet meets the requirements for your destination country.
Requirements include:
Blood tests
Rabies vaccinations
Microchip
Step 3: Order a Passport
We recently ordered a pet passport from www.tagsforhope.com. The site is fun and easy to use.
Not only does it collect all of your important pet documents, but it also allows you to customize your passport with fun emojis!
BONUS:
What does a dog passport look like?
The internet is brimming with nifty examples of pet passports. Although the look varies from company to company, here is what we ended up with!
Let's talk ferrets and cats
Some of you might be wondering about your smaller furry friends such as ferrets and cat? Let's take a moment to talk about ferret and cat passport USA!
In the United States, the process is very similar to the process for dogs. Once again, Tags for Hope has your back. The main big difference in the EU is that cats and ferrets don't need a tapeworm check.
All you will need for your cats and ferrets are:
Up to date Vaccinations
A blood test to assure your pet is disease free
Lastly, your pet will need to be microchipped
A few final words…
The answer to your original question, "can pet passport save you time and money at the airport?" the answer is yes. By placing all the necessary documentation in one place with a passport for pets.
We're relieved that we got Sage's pet passport early, the last thing we need is to scramble for documents as our big trip approaches. By using a company like Tags for Hope, you can get your pawsome pooch a US dog passport that will make travel a cinch!
Need more help prepping your pooch for a trip?
Check out our other articles on pet travel.
If you liked this article and found it helpful, subscribe to TravelingPetSafety newsletter for the latest articles and events. You can also visit our blogs for more great articles!